When the coronavirus first made its impact in the spring of 2020, one of the first things many businesses tried to do was find ways to conduct their operations without close contact. This has now spilled over to many other industries, including government and commercial security systems in Kansas City.
In the last 18 months, contactless access control systems in Kansas City have become extremely popular for multiple reasons. The most obvious reason is to limit the spread of germs. Any surface that is constantly touched each day by numerous people can be a hotspot for germs to gather. Many office buildings, government facilities, and apartment complexes are implementing new contactless access devices for this reason.
Another reason for the uptick in contactless access control systems in Kansas City is convenience. Gone are days of needing to find the right key on your keychain or remembering your pin code. Contactless systems can give you access to your building by using much more convenient methods.
In this article, we'll talk about the different types of contactless control systems and their benefits.
Card Readers
Many businesses, healthcare facilities, office buildings, and K-12 school security systems in Kansas City have started using card readers to allow access to proper personnel. Most card readers are positioned just outside of an entrance. The person trying to enter simply shows their card to the card reader until you hear a beep, and then the door unlocks.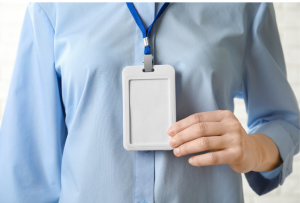 Many times, the card used to open the door is no bigger than a driver's license or credit card. In fact, many card scanners are so strong that they can typically scan the card without ever removing it from a wallet or purse. Card readers are a very convenient and secure way to allow only authorized people to enter a facility.
Face Camera Terminals
Numerous Kansas City K-12 school security systems companies are now installing facial recognition cameras at educational facilities. These highly sophisticated cameras can immediately detect if a person is a student or staff member. If they are not, they will not be able to access the facility. Face cameras are also becoming more common at government, healthcare, and business facilities.
Mobile Credentials
Many stadiums and arenas now only accept mobile tickets that are saved directly to your phone. Similar technology is now being used for authorized personnel at healthcare, government, and commercial security systems in Kansas City. Instead of using a keycard, staff members can save their security information on their mobile device. This makes for quick and convenient access without the need to carry a badge.

If your facility could use a security upgrade to a contactless control system, or if you still prefer access using contact methods, Cam-Dex is your source for all things security. Our team of experts will work with you to create a customized security system that fits your facility's needs.
Give us a call today at (913) 621-6160 or contact us online to find out more about the services we provide.