As one of the leaders in commercial security systems in Kansas City, our team at Cam-Dex is always searching for ways to use the most advanced technology to enhance security. Technology in all industries is becoming more advanced, especially when it comes to security systems. In fact, if you look at how commercial security systems have evolved over time, it's easy to see just how far security has come.
In this article, we'll take a look at some of the early inventions used to enhance security systems, then see just how far security has advanced over time. This will give you a quick glimpse at how technology has significantly improved business security systems in Kansas City and other communities.
The 1700s and 1800s
An English inventor by the name of "Tildesley" is widely credited with creating the first door alarm. This was done by mechanically linking a set of chimes to a door lock. The loud noise of the chimes startled and deterred many burglars during that time. Although a simple chime may not sound like much of a business security system, at that time, it was widely known as one of the most advanced security features available. This initial invention helped lead to some more advanced business and government security systems in Kansas City over the years.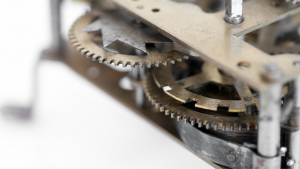 The Late 1800s and Early 1900s – Alarm Systems
In 1853, Augustus Russell Pope developed the first electro-magnetic alarm system in Boston, MA. Before this invention, many people relied heavily on mechanical ringing to deter potential criminals. This battery-operated device helped open the door to more advanced features that were later developed for commercial security systems in Kansas City.
The device was activated whenever an electric circuit was closed. The electro-magnetic alarm was most commonly used on doors and windows. This proved to be effective because the circuits would close once a door or window was opened, thus activating the alarm function.
The Late 1940s – Sensor Technology
Many government, commercial, and healthcare security systems in Kansas City now use some type of sensor technology as a way to deter suspicious activity. Electromagnetic sensors were a significant piece of security systems starting back in the 1940s. Some facilities would beam electromagnetic sensors through the air instead of using wires. Once banks, secular institutions, and museums got wind of this technology, they began implementing it into their security systems.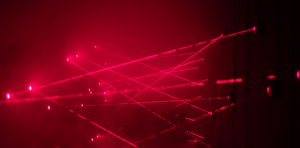 The 1960s and 1970s – Surveillance Video
Before video surveillance systems in Kansas City became prevalent, they were first developed in the U.S. in the 1960s. Olean, NY, was the country's first city to install video cameras above their streets in an effort to decrease crime. A few years later, New York City implemented cameras at some of their most highly visited areas, like Times Square for example.

If you are looking to upgrade or install a new security system for your business, contact the security experts at Cam-Dex today. We provide customized security solutions for a wide variety of clients. Let us know how we can help make your facility more secure.
Give us a call today at (913) 621-6160 or contact us online for more information.