If you are thinking about installing a closed-circuit television (CCTV) video surveillance system in Kansas City, you should know what areas to focus most heavily on. A quality CCTV system is comprised of four major components, which we will discuss later in this article.
A CCTV system can be installed in a wide variety of areas to help detect and prevent suspicious or illegal activity. It is common for businesses to use CCTV as commercial video surveillance in Kansas City. Also, many academic institutions rely on CCTV to provide school video surveillance in Kansas City. Law enforcement agencies also rely heavily on CCTV to identify criminals and prevent crimes in specific areas.
So know that you know how important CCTV is for surveillance video; let's talk about the four major components that make it all work. These include:
Premium Cameras
NVR or DVR
High Resolution Monitors
Video Management Software
Premium Cameras
Without high-end cameras, your CCTV system can not reach its full capacity. There are two common choices for CCTV cameras: IP cameras and analog cameras. If you are trying to keep up with the fast pace of video surveillance systems in Kansas City, IP cameras are the way to go. They are more compatible with faster, modern equipment. Analog cameras are more suited for legacy digital recording systems that use older technology.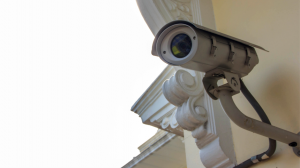 NVR or DVR
If your CCTV is part of a school, government, business, or healthcare security systems in Kansas City, you will definitely want a premier video recording service. The two most popular choices are NVR and DVR.
NVR (Network Video Recorders) – These typically cost a bit more than DVRs, but work best with higher resolution cameras, such as IP cameras.
DVR (Digital Video Recorders) – DVRs are a more familiar name to most customers because they are a popular choice for watching and recording TV shows at home. However, for surveillance systems, NVRs provide better overall quality.
High Resolution Monitors
Most businesses who have a CCTV system installed, they want the highest quality monitors to provide the best possible commercial video surveillance in Kansas City. For optimum resolution, you should invest in HD monitors, especially if your cameras have 1080p or 4k resolution. You may want multiple monitors so that you can track numerous areas throughout your facility.
As you can tell from this article, investing in the right equipment truly matters, especially when it comes to getting the right video surveillance system for your facility. CCTV has been a great choice for many property owners to help prevent suspicious or illegal activity. The technology behind CCTV will only continue to get better as time goes by.

If your facility needs updated security solutions, then contact Cam-Dex today. Our team of experts will work with you to help provide the right security and surveillance system to fit your needs. Be sure to ask about our contact and contactless access control systems in Kansas City as well.
To get started, give us a call at (913) 621-6160 or contact us online for more information.