For any business, it is wise to research different business security systems in Kansas City, before having one installed.  You may have a brand-new business that doesn't have any security equipment or be part of an existing company that could use an upgrade.  No matter the situation, Cam-Dex can provide suggestions on various security equipment that can help prevent violence, theft, or other illegal activity at your business.
Four crucial areas of security you may want to incorporate into your business are:
Surveillance Video
Security Lighting Systems
Keyless Lock Devices
Surveillance Video
Depending on your business, you may want security cameras in multiple areas.  A crucial part of video surveillance systems in Kansas City, is making sure areas that are the most vulnerable to illegal activity are the areas that receive the most attention.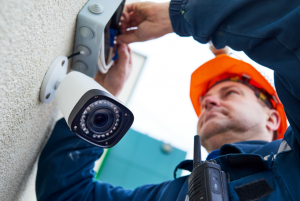 For example, if you are running a retail store and there is high-end designer clothing all in one specific area, that location will require a lot of video surveillance.  Or, if you suspect any employees are loitering on the job, abusing substances, or engaging in internal theft, be sure to have areas monitored that might be commonplace for illegal activity.
When criminals know they are on camera, they are less likely to go through with a crime.  So, installing a video surveillance system in Kansas City is a great way to limit suspicious activity.
Security Lighting Systems
Crimes like burglary and theft are much more common at night since criminals are less noticeable in the dark.  Be sure to have high-functioning security lighting added to your business security systems in Kansas City.  Most security lighting turns on automatically at night to ensure that all areas are illuminated just enough to deter criminals.
You can also install motion-activated lighting to save on electric costs.  These are a must-have for most security packages, especially when it comes to commercial security systems in Kansas City.  Criminals will quickly scatter once a light turns on, and a criminal will immediately suspect that they are being watched.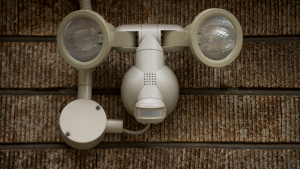 Keyless Lock Devices
The three most common types of keyless locks are electronic, mechanical, and biometric.
Electronic – These locks feature a keypad that lights up when in use, making it easy to see when using at night.  Locks can be wired or function by using batteries.
Mechanical – All employees will be given a security code and will use it to open the door each time.  One great benefit of mechanical locks is that they are weatherproof and are a good option for outside doors.
Biometric – For extra security, a biometric keypad will only allow access to someone by using a fingerprint reading.  These are common for business security or government security systems in Kansas City, especially where the highest level of security is necessary.

If your business is in need of high-end security solutions, contact Cam-Dex today.  We are a leader in business and commercial security systems in Kansas City, and would love the opportunity to keep your business safe by using our advanced security measures.
Give us a call today at (800) 873-8833, or you can contact us online, and a team member will follow up with you soon.